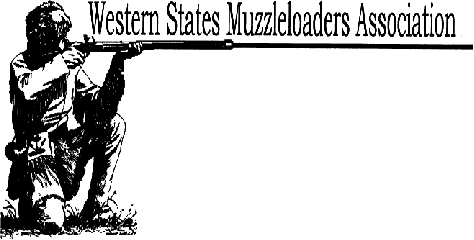 Western States Black Powder Shoot
and Oregon NMLRA Territorial
July 14 - July 19, 2022
Josephine County Sportsman's Park
7404 Highland Avenue
Grants Pass, OR 97526


541-476-2040
WSMLA Shoot Programs
Men's, Woman's and Youth Matches
Percussion & Flintlock Rifle, X-Sticks, Bench, Inline, BPC, Trade Gun, Musket, Pistol and Running Buffalo. Also, the OREGON NMLRA NATIONAL TERRITORIAL AGGREGATES, excepting shotgun and primitive will be shot.

National Territorial (ONLY) Cross Stick Buffalo match rules have changes to the "sitting position" and to the length
of the X-stick. The sitting position can be shot from the ground, chair, stool or a bucket. The LENGTH of the X-stick is
up to the competitor.
Need more information?
President:

Vice President:

Secretary:
Ken Laverty

503-625-6864

916-362-1469

925-672-7088
Copyright 2003 - 2022